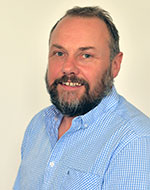 Che Osmond
Technical Director, Wardell Armstrong International
Ché is a Chartered Geologist with 20 years' experience geological, geotechnical, environmental and civil engineering contracts. He started his career as an exploration geologist in a nickel mine in Zimbabwe before going on to Cu exploration in Zambia, and onto a full-scale Cu-Au exploration in the Sultanate of Oman. Ché has been engaged in mining consultancy for over 10 years and involved with exploration programmes and supervision, mineral resource estimation and QA/QC audits, peer review, technical due diligence, scoping studies to feasibility studies, and has authored and co-authored numerous Competent Person's Reports (CPR) and NI 43-101 Technical Reports for industrial and metalliferous minerals within Europe, Russia, Central Asia, Africa, South America and the Middle East.
04.04.2019 14:00 - Technical session 5 | Sary Arka 1
DATA - What's it all about?
The digital revolution may be driving modern exploration but are we forgetting about the data source and fundamentals of this work. Are we allowing the exciting data manipulation and results to cloud over the essential requirements of the entire process? Most experts will be familiar with "Garbage In = Garbage Out" – this phenomenon will continue if we don't ensure that data acquisition and validation is completed. The consequences of not verifying the base line data can be the difference between a project advancing, securing investment, or building a successful mine. A robust mineral resource and ore reserve may be the key to building a successful mining project, but data is the foundation on which the project is built.