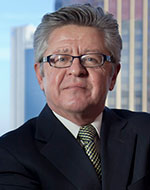 CEO, Yilmaden Holding
Dr. Malazgirt's tenure at Yildirim coincided with the expansion of its metals and mining business in two countries, Turkey (EtiKrom) and Sweden (Vargon Alloys) to six countries: Voskhod Oriel chrome mining operations in Kazakhstan, Tikhvin Ferroalloy Plant in Russia, Bear Metallurgical Company in Butler, USA, and the recently acquired Best Coal Company in Colombia.
YilMaden Holding is now the world's second largest high quality high carbon ferrochrome producer in the world. Prior to joining Yildirim Holding and relocating to Istanbul, Turkey, Dr. Alp Malazgirt lived in Korea where he was an Associate Dean and Associate Professor of business management and worked as a consultant on many high tech projects related to metals and mining. Prior to his tenure in the Far East, he was in the USA and had a distinguished career in the Silicon Valley with two silicon chip manufacturing companies.
He has more than 25 years of commercial experience working in the high-tech and management fields and is the recipient of many awards. Dr. Malazgirt has a BS degree in metallurgical engineering from Middle East Technical University in Ankara, Turkey, and an MS from South Dakota School of Mines and Technology and a Ph. D. in Materials Science and Engineering with a minor in chemical engineering from the University of California at Berkeley, California, USA. He is the recipient of three patents and has published in excess of 20 technical articles and made more than 150 presentations.
03.04.2019 09:45 - Plenary session 1 | Sary Arka 1
Trumpeting a New Era in Yilmaden's Operations: Smart mining
03.04.2019 14:00 - Panel discussion 1 | Sary Arka 1