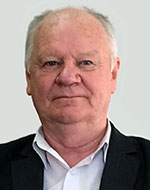 Petr Kovrizhnykh
First Deputy of Director General, ТОО «НПЦ »ГЕОКЕН»
Born in 1952. In 1974 he graduated from the Sverdlovsk Mining Institute named after V.Vakhrusheva, specialty: mining engineer-geophysicist. In 1987 he was awarded the degree of Candidate of Geological and Mineralogical Sciences. In the period from 1974 to 1986 he worked at the Department of Ore Geophysics of the Sverdlovsk Mining Institute; from 1987 to 1997 - in the Aerogeological and Geophysical Expedition of the PGS "Kazgeofizika" of the Ministry of Geology of the Kaz SSR. From 1997 to the present time works in SPC GEOKEN LLP.
Author of more than 30 scientific articles, scientific developments in the field of electrical exploration methods are protected by copyright certificates for invention (co-authored). For the cycle of scientific works (co-authored), he was awarded the State Prize of the Republic of Kazakhstan in 2015 in the field of science and technology named after al-Farabi.
04.04.2019 14:00 - Technical session 5 | Sary Arka 1
Experience of using traditional and new technologies of geophysics in prospecting and exploration of ore deposits in Kazakhstan
The report presents examples of the use of: innovative low-altitude magnetic survey technology with an unmanned aerial vehicle; high resolution gravity; impulse electrical prospecting in the ground (TEM) and borehole (BHTEM) variants; electro-prospecting by the method of induced polarization using the technology of vector measurements and electro-tomography with multielectrode installations. The results of geophysical studies can significantly improve the effectiveness of exploration.