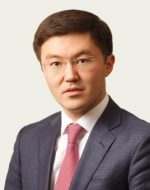 Partner, Head of Natural Resources, GRATA International
Almat Daumov is a Partner and Head of Natural Resources Department of GRATA International. He focuses on energy and natural resources, M&A, tax law and dispute resolution. For more than 15 years, Almat has advised domestic and multinational corporations and built an impressive oil and gas and mining practice. He has a great experience in undertaking and supervising work for oil and gas, mining and services companies, including Rio Tinto, Nordgold, Polymetal, Yildirim, Mechel, Polyus Gold International, Korea National Oil Corporation, North Caspian Operating Company, Sinopec, Baker Hughes, Enka.
Representative experience:
• Advising Polyus Gold International in a reverse takeover transaction with Kazakh Gold, in its USD 9 billion premium listing on the LSE, in the sale of USD 375 million of shares in Kazakhaltyn and Norox Mining;
• Advising Nord Gold on the USD 1 billion IPO on the LSE, on the US Notes Offering for USD 500 million on the Irish Stock Exchange;
• Assisting Rio Tinto on structuring of joint ventures with KazGeology;
• Advising Polymetal International PLC on acquisition of the Bakyrchik and Bolshevik gold mines for more than USD 600 million;
• Full legal support of Cameco Corporation in Kazakhstan, advising its subsidiary on subsoil use issues (uranium production), as well as on contractual, tax, customs and environmental law, labour disputes and litigation.
03.04.2019 16:00 - Technical session 2 | Sary Arka 1
Structuring of a mining company for efficient sale to a strategic investor.