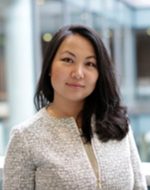 Ayuna Nechaeva
Head of Europe, Primary Markets, London Stock Exchange Group
Ayuna Nechaeva was appointed as Head of Europe, Primary Markets in April 2018. She leads the IPO origination and issuer relationship management team across Europe, including Western Europe, SCEE, Russia and Central Asia.
Prior to that, Ms Nechaeva held a variety of positions at LSEG, including the Head of Russia, CIS and Mongolia and Senior Manager for Emerging Markets.
During nearly 10 years at LSEG, Ms Nechaeva has worked on dozens of IPOs and listings across many sectors, including the most recent flagship $451.3m IPO of Kazatomprom. Her team's issuer portfolio includes over 200 listed companies with the total market value of over $1 trillion.
Ayuna Nechaeva holds a Master in International Business from the Grenoble Graduate School of Business (GGSB) and an MA in Linguistics & Intercultural Communications from the Lomonosov Moscow State University (MGU).
Ms Nechaeva was shortlisted for the Asian Women of Achievement Award in 2018 in the Business Category.
03.04.2019 16:00 - Technical session 2 | Sary Arka 1
Accessing Global Capital Markets Through London.