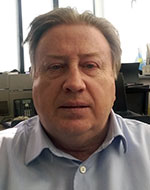 Ashley Brown
Manager, Resource Delineation, KAZ Minerals Management
Ashley Brown has experience in mineral exploration and mineral deposit evaluation. He is a "Qualified Person" under the meaning of NI 43-101.
He is a professional geologist with 28 years of experience and expertise in underground and open pit mining, advanced geostatistics, resource evaluation and exploration.
He has reviewed and evaluated mineral resources for copper, gold, platinum, base metal and uranium mining projects in Canada, Spain, Turkey, Finland, Kazakhstan, Panama, the United States, Mexico, Venezuela, Argentina, Guyana, Mali, Ghana, and South Africa.
His area of expertise includes geostatistics, geological modelling, digital data integration, due diligence studies and resource estimation using Leapfrog, Datamine Studio, Surpac, and the Isatis geostatistics packages.
Ashley was born in Ireland and after several years in Africa (Namibia, South Africa, Ghana, Mali) he moved to Toronto, Canada to work for SRK Consulting in 2008.
B.Sc. (Hons) in Geology, University of Cape Town, Cape Town, South Africa, 1991.
Graduate Diploma in Mining Engineering (GDE) in Mineral Economics, University of Witwatersrand, Johannesburg, South Africa 1997.
CFSG Specialized one-year diploma in geostatistics, Paris School of Mines at Fontainebleau, France 2004/2005.
02.04.2019 11:15 - Master class 3 | Park Inn Hotel
Review of resource estimation in mining
Resource estimation is changing rapidly to relying more on implicit modelling techniques as these are more accurate and less time consuming than traditional explicit techniques. Geostatistics can be applied to strategic decision making from the early exploration stage to the mature mining stage.
There are historical legacy issue due to poor QA/QC in the industry. Geostatistical skill are rare in the industry and highly sought after.
Common estimation errors include extrapolating grade into low grade or even barren areas. Also, poor attention to the production of the grade tonnage curve can lead to reconciliation issues between mine and mill.
There is poor observance to best practices in resource classification in the industry especially amoungst the junior producers.
Geostatistics gives an opportunity to optimize drill spacing and give savings in drilling costs. Currently the use of advanced geostatistics at operations is limited by the need to apply appropriate technology.
04.04.2019 09:30 - Plenary session 3 | Sary Arka 1
Review of resource estimation in mining