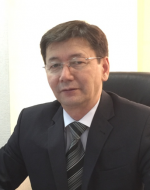 Kenes Temirkhanov
General director, Vice-president, National Academy of Mining Sciences
In 1980 he graduated from the Karaganda order of the ed banner of Labour Polytechnic Institute and qualified as a mining engineer-surveyor.
From 1980 to 1997 he worked at the Akchatau mining and processing and Balkhash mining and metallurgical plants in the positions of district, senior and chief surveyor. From 1997 to 2009 he worked in the Committee of Geology and subsoil protection as head of the Department of subsoil protection and the Committee of ecology as Deputy Chairman.
From 2009 to 2014, the Eurasian Group as the Director of the Department of environmental and occupational health, 2014-present General Director of LLP "NIPI Kaztechproject", Vice President of LEAN in.
04.04.2019 09:30 - Plenary session 3 | Sary Arka 1
Eurasia is a single geological system