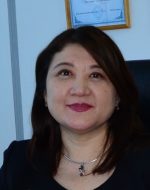 Deputy Executive Director, The Republican Association of Mining and Metallurgical Enterprises
She is the Deputy Chairman of the primary organization of AMME under the PDP Nur Otan, member of the Technical Council of Real Estate Fund Samruk Kazyna JSC, member of the Committee for Geology, Mining, Coal Mining and Metallurgical Industries of the Presidium of the RK NCE Atameken, member of the Kazakhstan-Indian Business Council, member of the Award Commission of the President of the Republic of Kazakhstan "Altyn Sapa" in the Executive Office of the President of the Republic of Kazakhstan.
04.04.2019 16:15 - Panel discussion 2 | Sary Arka 1
Holding WorldSkills industry championships among mining and metallurgical enterprises.
Today we pose an important question: our young people actively participate in various competitions, in sports events, but few questions are raised concerning the prestige of working professions.
Standards and methods WorldSkills, are effectively used in many countries, the purpose of which is to raise the status and standards of training and qualification around the world, to popularize working professions through international competitions around the world.