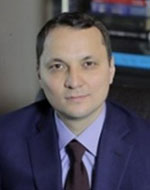 Timur Toktabayev
Vice-Minister, Ministry of Industry and Infrastructure Development of The Republic of Kazakhstan
Timur Toktabaev was born on October 26 in 1981.
He is a graduate of the Academy of National Safety Committee of RK, Kokshetau State University named after S. Ualikhanov majoring in Finance, Kazakh National technical University named after K.I. Satpayev majoring in Geology and mineral exploration. From 2003 is in public service, in 2006 has worked as a Deputy Head of "Kazgeoinform" RCGI of Subsoil Use and Geology Committee, Director of the Department of National Mining Company "Tauken-Samruk". The last position taken was a Director of Subsoil Use Department of the Ministry of Investment and Development of the Republic of Kazakhstan (2013-2016 years). From January 2016 – Ethics Officer of MID RK. By the Decree of the Government of RK №399 dated 11.07.2016 Toktabayev Timur Serikovich was assigned as a Vice-Minister of Industry and Infrastructure Development of The Republic of Kazakhstan.
03.04.2019 09:30 - Welcome Addresses | Sary Arka 1
Welcome on behalf of the Government of Republic of Kazakhstan
03.04.2019 09:45 - Plenary session 1 | Sary Arka 1
Improving the legislation of the Republic of Kazakhstan in the field of subsoil use.