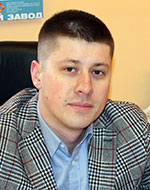 Roman Kondratev
General Director, Drilling Technologies Factory
Roman Alexandrovish Kondratev is a founder and General director of Drilling Technologies Factory (Saint Petersburg). In 2017 factory joined to affiliated companies of PJSC Kirovsky Zavod (Saint Petersburg).
Roman graduated from Saint Petersburg Mining University with a degree in Mining engineering. Now Roman is a student of Executive MBA program in the Russian Presidential Academy of National Economy and Public Administration (RANEPA).
In 2013 took award as Young Millionaire according to the magazine Business Petersburg.
Roman speaks fluent English.
04.04.2019 09:30 - MineTech Business | MineTech
Execution of a project for production and promotion Russian-manufactured directed drilling constructions.
Feedback from Drilling Technologies Factory (Saint Petersburg) to coal, oil and gas industries' requests under the State Import Substitution Programme.
Modular directed drilling construction for underground mining working.
Geologic exploration, draining out of gases, production wells at any angle. Explosion-proof design.