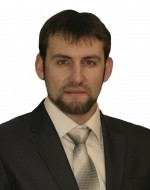 Evgeniy Yanitskiy
Deputy CEO of Research and Development, Head of the Laboratory of Mining Geology, «ВИОГЕМ» ОАО
Evgeny Yanitsky, Deputy CEO of Research and Development, Head of the Laboratory of Mining Geology, ОJSC "VIOGEM", PhD candidate of Science
Worked for over 15 years in OJSC "VIOGEM", started as an engineer and worked all the way up to a Deputy CEO of Research and Development, , PhD candidate of Science.
Responsible for geological support of mining enterprises, development and design of mining plants in difficult engineering-geological conditions.
Main specialization is analysis of the quarry bench stability, development of operational effectiveness of mining enterprises in terms of managing mining and geological data, development of technical solutions for construction of mining plants, and development of the functionality of the mining and geological system GEOMIX.
One of the developers of the Federal Standard in the field of industrial safety "Standards for open-pit bench and side stability and opencast mines".
04.04.2019 14:00 - Technical session 6 | Sary Arka 3
GIS GEOMIX - a comprehensive technology information support cycle of mining operations.
The quality of ore preparation depends on the efficiency and reliability of information in the services and departments of mining enterprises at all stages of mining. The complex computer technology developed in VIOGEM (CCT) on the basis of GEOMIX allows to process and systematise information of all technological processes of production of mineral raw materials.
Geological module processes exploration, production and drilling-and-blasting wells, forms geological plans and sections, frame and block models of rock mass with the distribution of component contents. Mining module according to total stations, laser scanners and aerial photographs forms mining plans. In the geological and structural module maps of fracturing and rock strength are created, which together with geological data form an interactive map of the rock mass explosion. On the basis of statistical analysis and anisotropy of the array in DBM optimisation module, the specific flow rate and optimal parameters of the drilling block grid are calculated. Drilling and blasting module allows you to automatically design wells on the optimal grid with the ability to exchange information with drilling rigs.
In the module of prediction of explosive destruction of rocks formed a single block model of the exploded rock mass of the quarry with the distribution of the content of the components. KKT due to the work of all services in one information environment at all stages allows to optimise the processes of ore preparation.