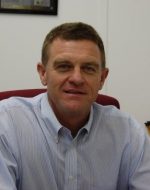 Sales Manager, MMD Mining Machinery Development
Noel Bessler has got big experience in sales of equipment for mining business in RSA. He joined MMD in 2018 and focuses on Kazakhstan market.
04.04.2019 09:30 - MineTech Business | MineTech
Newest technology for high efficiency of in-pit mining and conveying
All around the world the Shovel is regarded as an essential investment for mining. However, when partnered with Trucks, their efficiency drops drastically. Safety being paramount, the shovel is forced to wait while each truck manoeuvres into position.
Loading raw material directly into the truck is challenging. A fluctuating volume of material in each shovel bucket and the size of rocks, results in a variable fill factor for each truck. This can lead to truck bed damage or underutilisation.
The number of shovel swings, and the time required to fill each truck becomes unpredictable due to the material digging process. The impact of irregular loading wreaks havoc with fleet cycle times, with trucks getting congested or too spread out, leaving the shovel waiting "again". These issues are repeated time and time again with each truck.
But now…. Introducing the very latest innovation from MMD – The Fully Mobile Surge Loader. A mobile feeder designed to tackle intermittent loading in truck & shovel operations. The shovel operator continues loading, unrestricted, while the hopper stockpiles material ready for delivery to the trucks. Maximising shovel utilisation to nearly 95%.