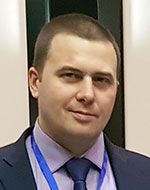 Rostislav Bilik
CEO, AGR Software
In 2000 graduated Saint-Petersburg Electrotechnical University majoring in automation and control systems. In 2000-2004 studied in the graduate school in the Baltic State Technical University "Voenmeh" majoring in system analysis, control system and data processing. In 2004 earned PhD by successfully defending the thesis "Improving control over braking and acceleration of the rail transport".
In 1999-2005 Rostislav Bilik worked for HC "Leninets" developing embedded software for aircraft radars and rail transport. In 2004 he became the head of a software engineering laboratory.
In 2005-2010 Rostislav worked for Motorola, where in various positions (from an engineer to the acting architect of a big international project) was engaged in projects on telematics software engineering for Daimler Chrysler and Continental.
Since 2010 Rostislav has been leading the AGR development project (automation of geological exploration). In 2015 the project became an independent business run by AGR Software LLC, with Rostislav Bilik as Director General.
03.04.2019 16:00 - Technical session 3 | Sary Arka 3
AGR — a simple tool to work with a geological database
A major trend we have seen over the past few years is simplification in IT. It's not that information systems tend to become less complex, but the very operating principles. Today, even the most complex software has ergonomic user interface, is easy to use and maintain and provides interactive features.
AGR Software stands the pace. Last year we managed to considerably upgrade the kernel of the Data Management module, so now a user won't have to study hundreds of manuals and can change the most complicated settings related to geological data processing with just a few clicks.
The module offers the interactive graphic editor which allows a user to create any data processing chain by simply dragging the units. Information streams are event-managed which sets almost no limits for building processing logics. Let's take obtaining results of a sample from the lab as an example. Once it is received, it is possible to activate the next chain, such as data validation, quality control, distributing sample data into the tables or restructuring geological logs.
Thanks to the new functionality, we managed to reduce the module implementation time by more than twofold. As a result, our customers benefit from acquiring and implementing the AGR system at less cost.