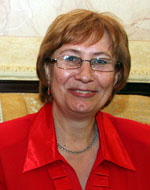 Vera Muzgina
Research worker, VIST Asia
She graduated from the Mining faculty of the Kazakh Polytechnic Institute as an engineer-economist. Higher Doctorate in Mining. She worked in the State (Institute of mining named after D. A. Kunaev, RSE National Center for Complex Processing of Mineral Raw materials of RK) and in private (Gornoe Buro LLP) companies. Currently, the researcher-expert in mining VIST Asia LLP.
03.04.2019 16:00 - Technical session 3 | Sary Arka 3
Digital solutions for business processes optimisation at mining enterprises
Solutions of VIST Group / VIST Asia allow to achieve sustainable functioning of business processes within a single economic and integration model of the mining enterprise on-line. Dump trucks working in the quarries in the autonomous operating conditions – one of the promising areas of development of mining equipment. The implementation of a joint project with Nazarbayev University on the creation of robotic equipment on the basis of KAMAZ dump truck is an important area of work of VIST Group/VIST Asia on the automation of mining operations.
The application of the VIST Group / VIST Asia method of mathematical simulation with the construction of digital "twins" of production allows mining enterprises to work out the introduction or change of technological processes without real intervention in the work, as well as to determine the most critical processes and equipment with limited historical data. For enterprises with accumulated large data of different APCS the use of VIST Group / VIST Asia methods of Predictive Analytics helps to plan resources correctly.