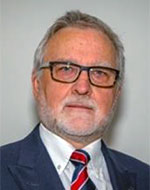 Senior Mining Consultant, People 1st International
Simon Elsy is an International TVET specialist with extensive experience as a strategic technical and vocational education and training consultant specialising in workforce skills, employment and social sustainability to his project outcomes. He provides advice and support to government, government agencies, the private sector, major projects, contractors, training providers and the not for profit sector. Sectors include metalliferous mining, extractives, civil engineering, construction, construction products, logistics, rail infrastructure, and community health. Simon provides support and advice to organisations that are requiring to develop and deliver effective workforce skills, employment and wider social outcomes to meet industry demand, align with socio-economic priorities and community benefits requirements. He has worked extensively with government and major public sector projects in both the UK, Australia, NZ, India and Eastern Europe.
Professional recognition includes, Chartered Geologist, Chartered HR Professional and post-graduate certificates and diplomas in Education, Personnel Management, Business Coaching, Training & Assessment and Lead Auditing. Simon has published a number of articles and case studies and his projects have been award winning and recognised best practice in both Australia and the UK.
03.04.2019 16:00 - Technical session 3 | Sary Arka 3
Skills and People Development and Mining 4.0: The Role of HR in Capacity Building
It is widely recognised that the challenges for mining is in establishing a firm foundation for future sustainable development. Irrespective of emerging technology across wide areas of the sector, reducing risk in its many forms and increasing efficiency cannot be achieved without people that are sufficiently skilled and competent to engage with such technologies. This presentation will address HR and People Development experiences encountered in Kazakhstan and reflect upon UK and Australian parallel contexts to demonstrate the strategic HR challenges. It is necessary for employers to create a workplace culture that will support competence and encourage upskilling of all employees with the desire, confidence and ability to achieve strategic aims.
This presentation will touch on findings from client mine sites, and describe how future competence and skills frameworks for the mining sector are urgently needed to be truly able to embrace Mining 4.0 and enable "fit for purpose" future workforces.
04.04.2019 16:15 - Panel discussion 2 | Sary Arka 1